OVERVIEW
"The Wink," is a digital editorial platform for Clinique that blends content and commerce. I led the team in developing the content strategy, branding, creative and experience.
THE BRIEF
Establish an editorial point of view for Clinique and "reason for being" in the digital space.
WHAT WE DID
1. Content Strategy, Planning and Definition
2. Naming, Branding, and Art Direction
3. Digital Product Design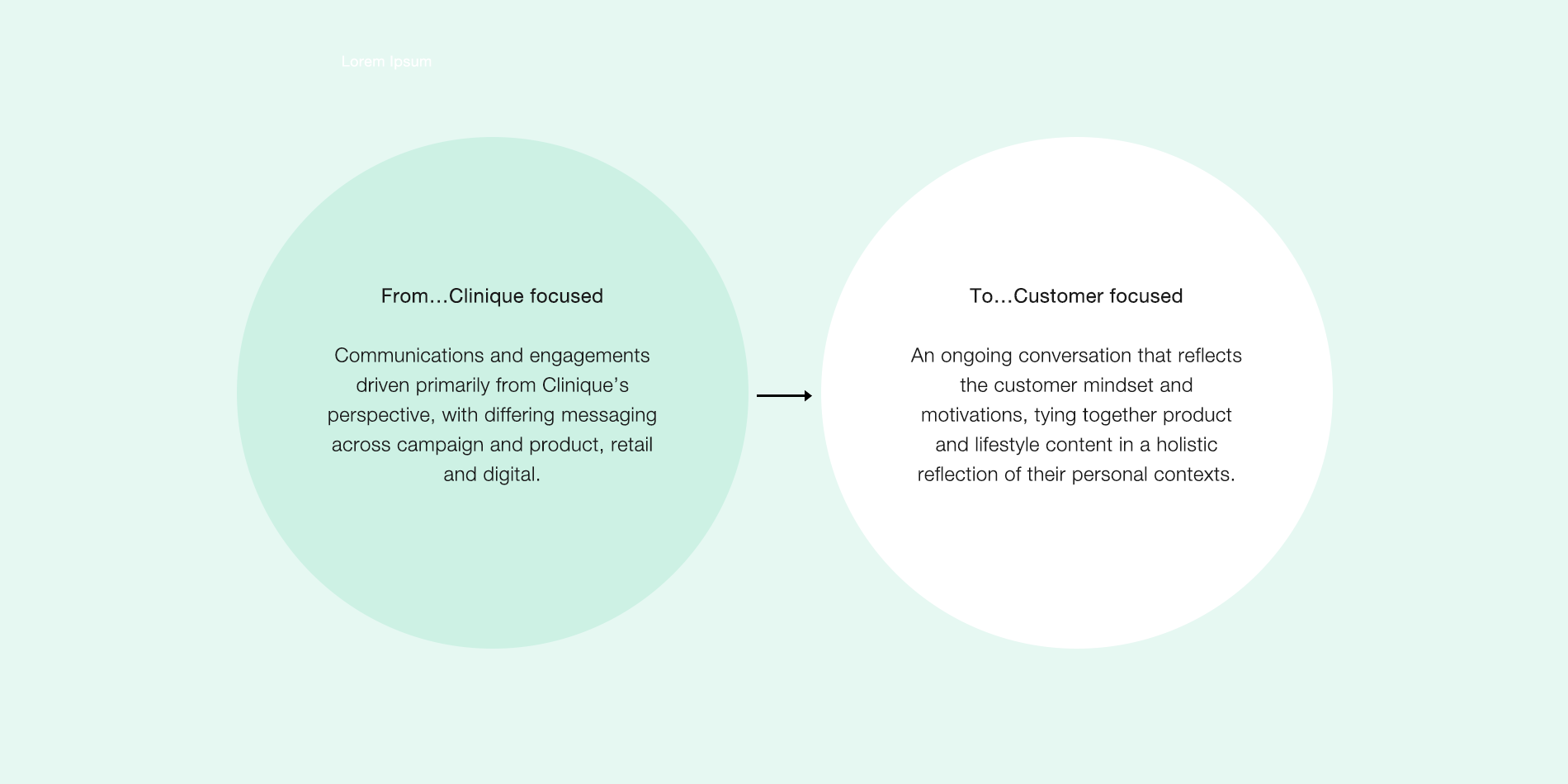 STARTING POINT
Putting the customer at the center. Through customer and competitor research we can understand how to be relevant and motivations in order to craft a purpose around their reality.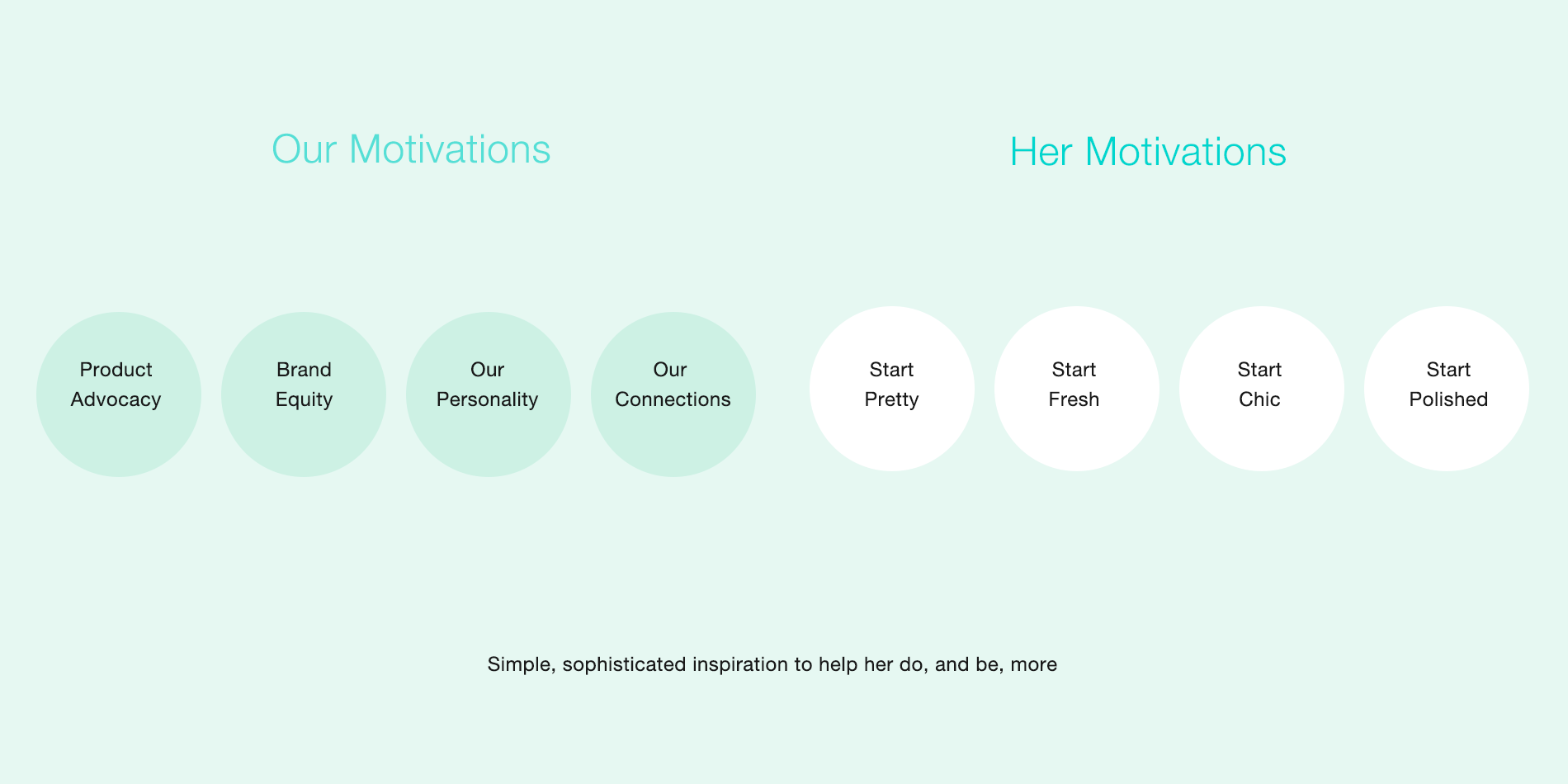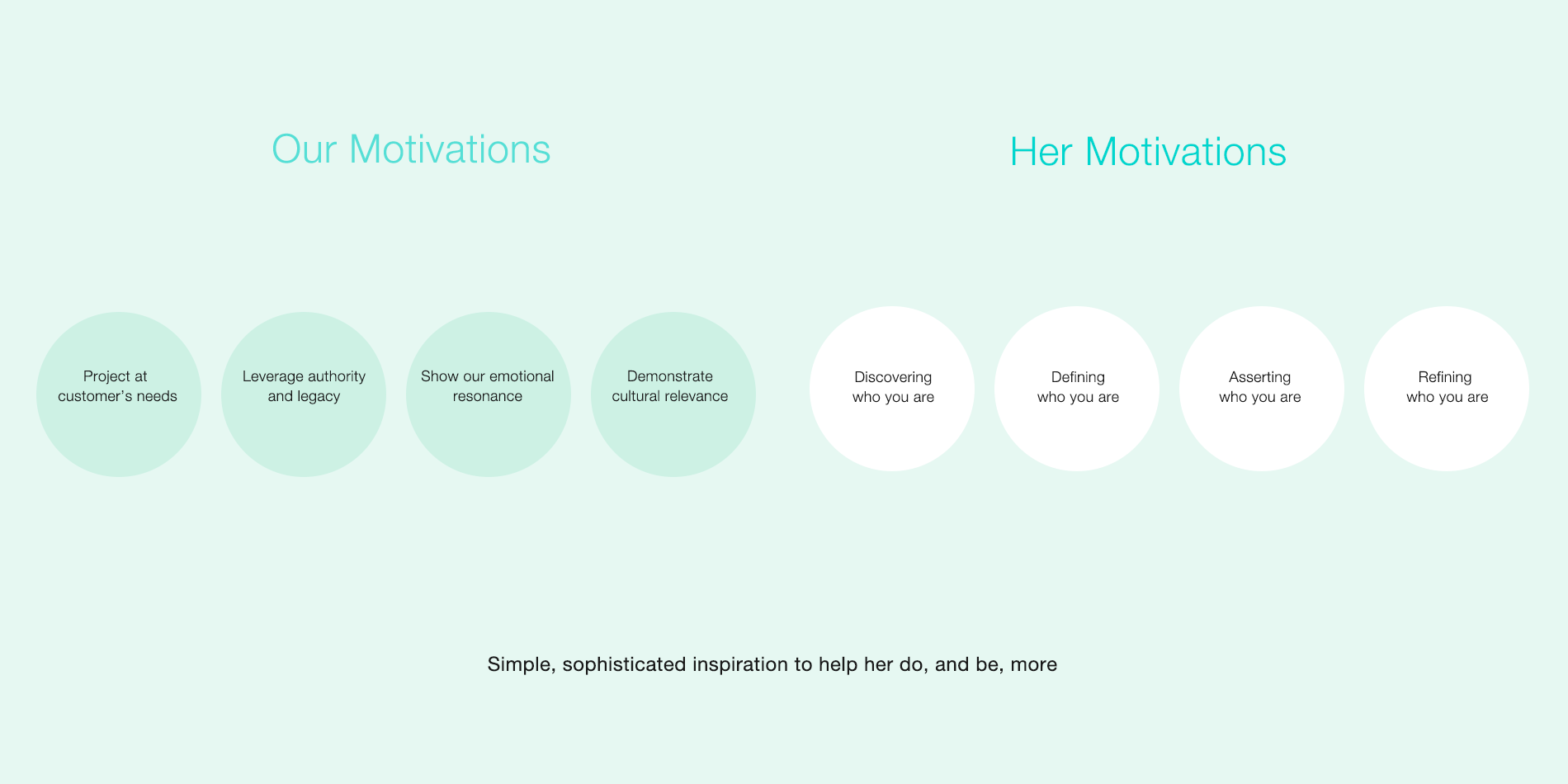 Understanding the customer motivations allowed us to identify topics that spoke to our core target groups, and ladder up to what makes Clinique unique in a credible way.
In order to keep customers engaged, a mix of high fidelity vs. low frequency content was needed. Content cards were developed and mapped back to our customer's motivations, along with frequency and format.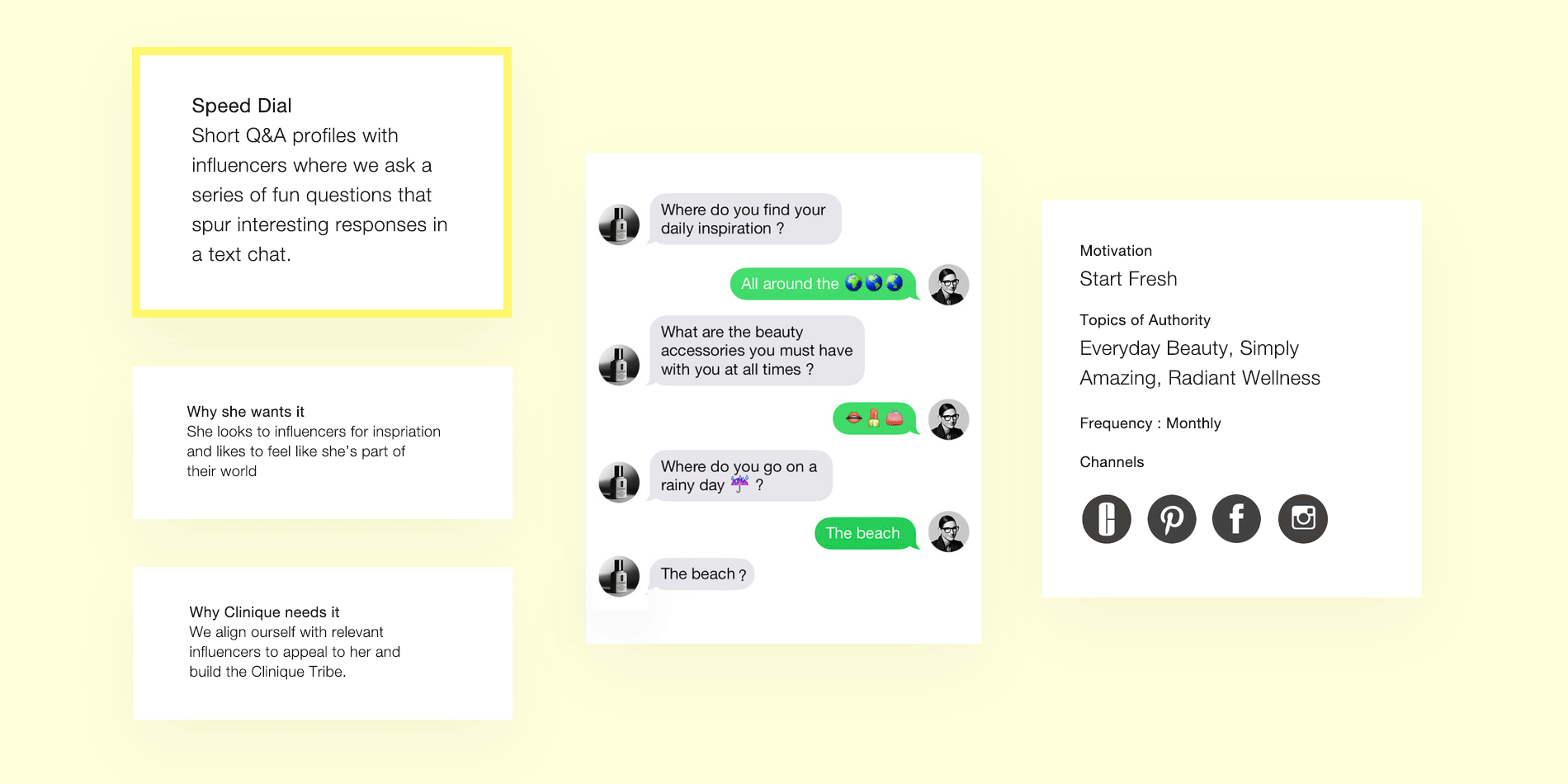 Only after we landed "what," we were saying, could we identify "how," to communicate it. Key features were sketched out to ensure technical feasability with Clinique's technical systems (drupal), optimal engagement with our audience / key stakeholders, and the ability to launch within our timeline.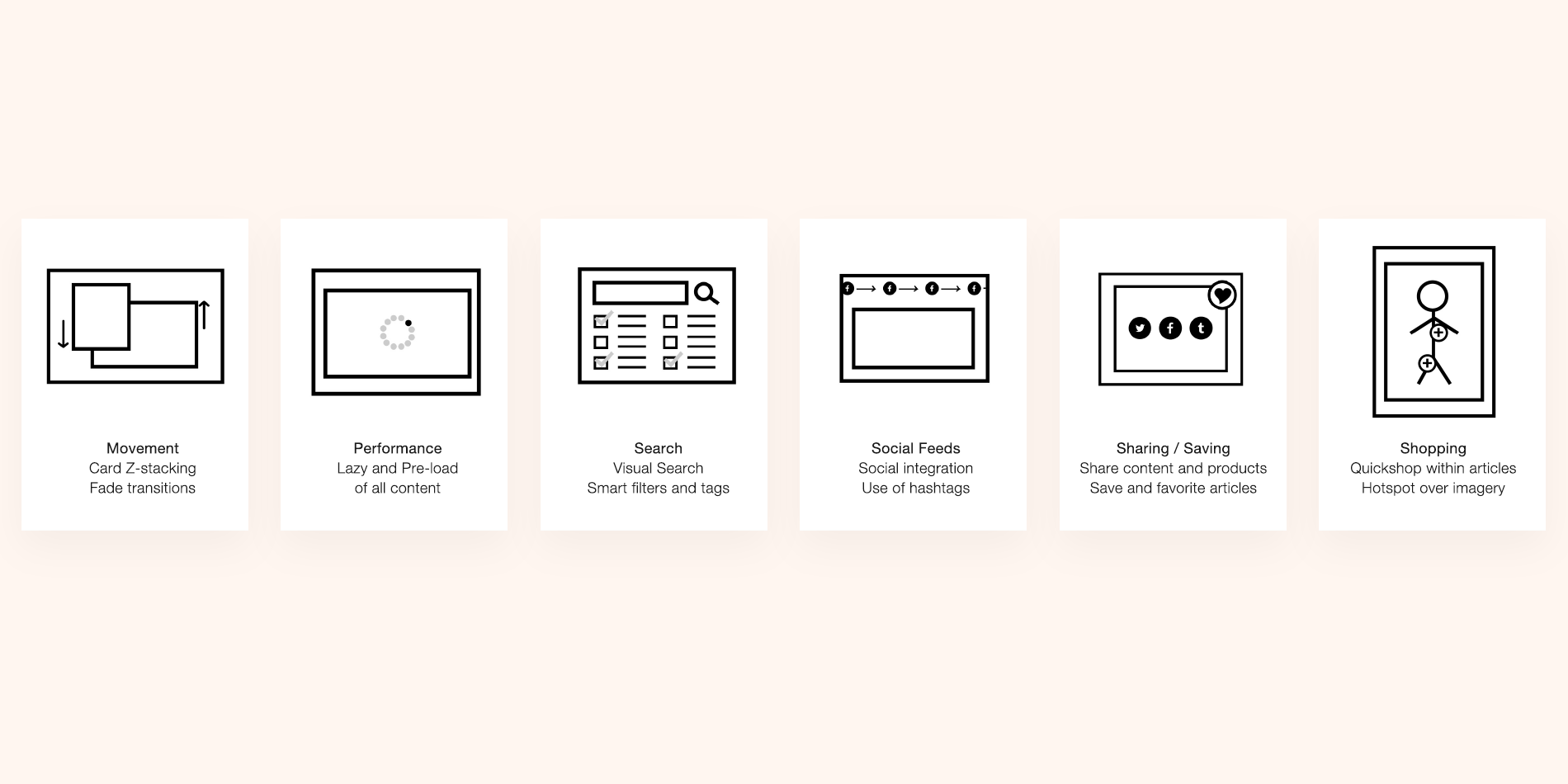 DESIGN SYSTEM
The core features informed the components we would design into. These needed to be flexible for easy page customization and scale across devices.
BRANDING
We chose "The Wink," because it was the smart wink you give someone "in the know". I designed the logo to speak to Clinique's clean aesthetic but also be modern so that it resonated with 20-30 year olds. We explored over 200 name ideas.

ILLUSTRATION
Illustratative elements were used throughout the design system to bring a youthful, fun and editorial feal to the experience.


Grey Malin took this incredible photograph from the historic New York apartment of Leona Helmsley, to help us launch "The Wink".
RESULTS
Within the first 10 weeks of launch in the U.S.
700k new users
$1.25M in new sales
+27% conversion rate
TEAM
Wednesday Agency

Morey Talmor, Rekishia Jessup, Jun Lu, Natalee Ranii-Dropcho

---
PHASE TWO

Retail Experience and Global Launch

Following the success of the US launch, Clinique had plans to roll out "The Wink," globally and build their first ever stand alone store in Hong Kong as an experience extension.
RETAIL DESIGN AND INTEGRATION
The creative I developed for The Wink informed the in-store visuals and experiences. I led the design for the Hong Kong Clinique store digital doorway.
RETAIL EXPERIENCE
The digital doorway was a new opportunity to interpret how The Wink needed to bring customers into the store.
AMBIENT STATE

Store experiences are lifted from "The Wink," along with visuals and design direction
DIGITAL DOORWAY

The doorway to the store is an active experience that utilizes content from "The Wink" on Clinique's site as well as promotes events and services unique to the Hong Kong store.
AMBIENT STATE

The river of content would draw customers into the experience and invite them to interact with the goal to drive into store
TOUCHSCREEN STATES

The interface elements were optimized for mobile interaction, utilizing QR codes and SMS for customers to save content and touch in order to navigate and book appointments.





---
PHASE THREE


Following the retail experience and store design, we rebooted "The Wink," digital experience. This included a full roll-out to 30 international regions, a cleaned up design aesthetic, and template enhancements.
Creative Team, second and third phases (The Science Project) : Pacssu Park, Nicole Davis, Vanessa Brown

Store Design in partnership with Mapos Architects