Nike DTC : Case Study
2020 Brand Plan
Nike identified four Direct To Consumer channels that were key to realizing brand and business potential over the course of the next 3 years until 2020.

A consistent strategic message and vision to scale and unify Nike's DTC (Nike.com, Flagship, Partner, Factory) channels was needed in order to put the customer's needs first and reach that potential.

Inform strategic and financial plans through 2020 for Nike
Clearly articulate "who we are" and "what we believe"
Create a sound strategic framework to drive distinction and positive disruption in the marketplace and within our own "go to member" process and consumer engagement plans (for consumers, for our brand, for the business)
Rally the extended team and unify our collective efforts with focus and purpose (including senior leadership, other key functions and the extended DTC team)
15 Customer Interviews
39 Retail Site Visits
2 Expert Sessions

20 Retail Experience Case Studies


---
The DTC Brand Plan will ground us. It will be a northstar, a filter, a focus.

In partnership with Nike, we needed to answer fundamental questions in order to define the purpose of the Brand Plan, gather data and compile a proper strategy.
1. When everyone is using the same sources of inspiration, everything can start to feel, 'same old, same old.'

2. Proof of participation is a new product. 

3. Limitless options can be limiting. 

4. Consumers are increasingly empowered to build experiences around their needs, no longer happy to 'make time' for tasks.

5. When all points of engagement offer the same experience, consumers feel no need to explore.
Nike research, insights, our competitive retail/brand analysis and collaborative workshops shaped the approach. The end result was captured in detailed chapters of the below areas which defined the framework for Nike's DTC strategy.
Only after workshops with Nike, and rounds of iterating could we arrive at a breakthrough in the form of "Everyday Victory". This single statement was powerful enough to unify the entire DTC offensive, but flex for each specific need. We were convinced it was perfect, but I needed buy in from our executive sponsor, Heidi O'Neill, President of Nike Direct to Consumer before we could go further and communicate across the Nike organization.

The primary means of communication were in keynote presentations. Currency at Nike is in a well rehearsed, beautiful presentation. The decks (sample slides above) were vital to the success of this project and narrative we wanted to tell.

To get to that point we needed to also think of the entire design system of this new department at Nike and how it would visually cut through internally. Throughout building our decks we would sharpen the identity using the lock up below and elements to tie back to Nike while feeling fresh and inclusive.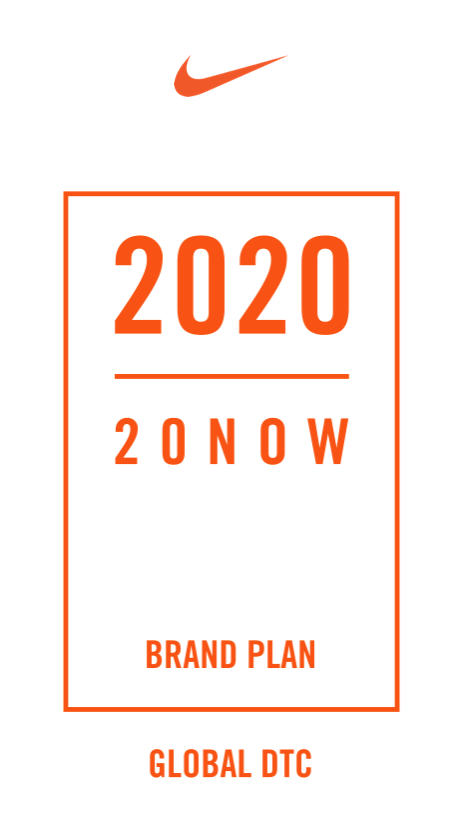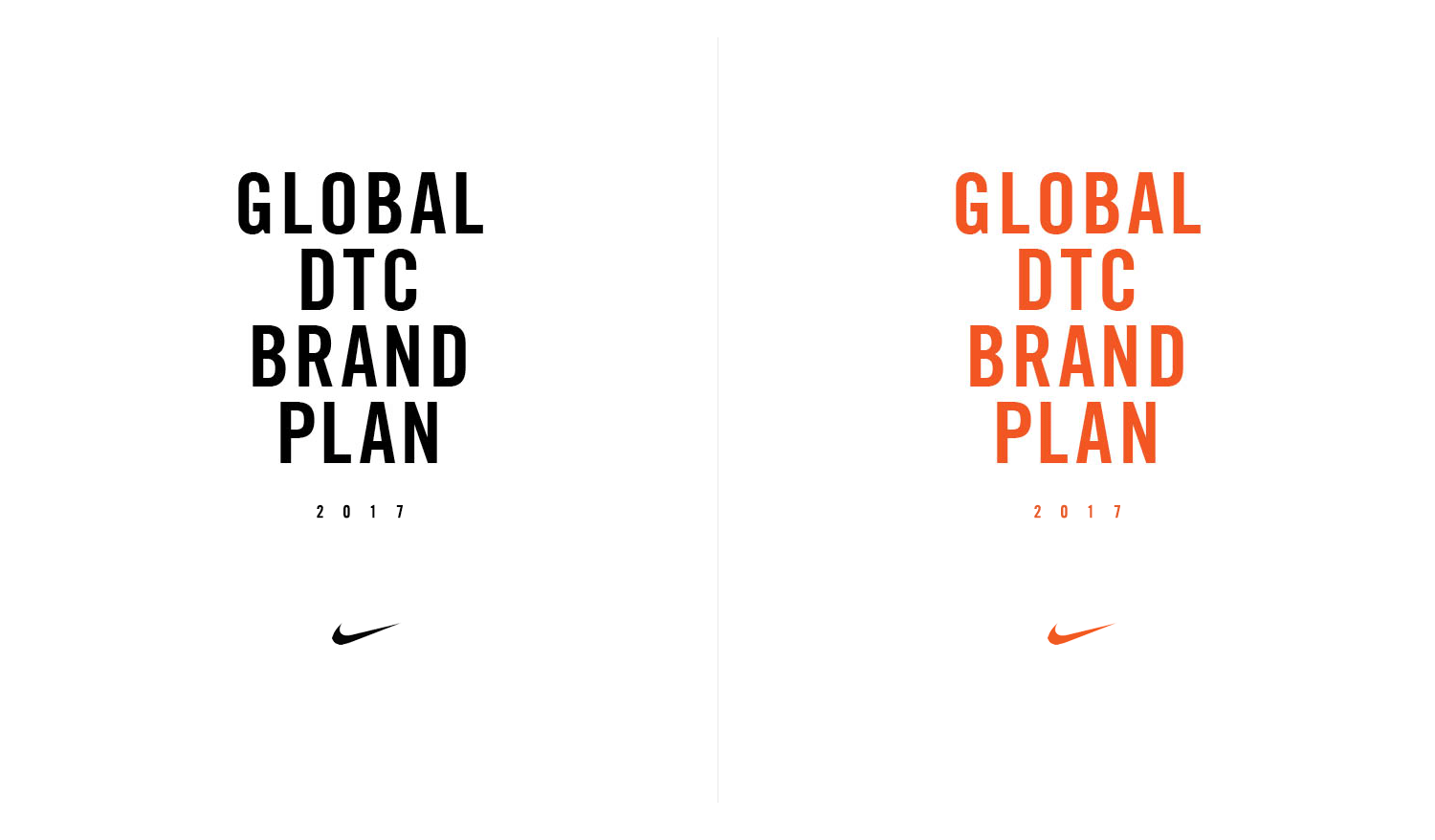 The identity system paved the way for us to quickly move into crafting our narrative across mediums. Once we had solidified the strategy and our keynote decks were set, we quickly framed out all the pieces we envisioned that would bring our message to life in print and on screens.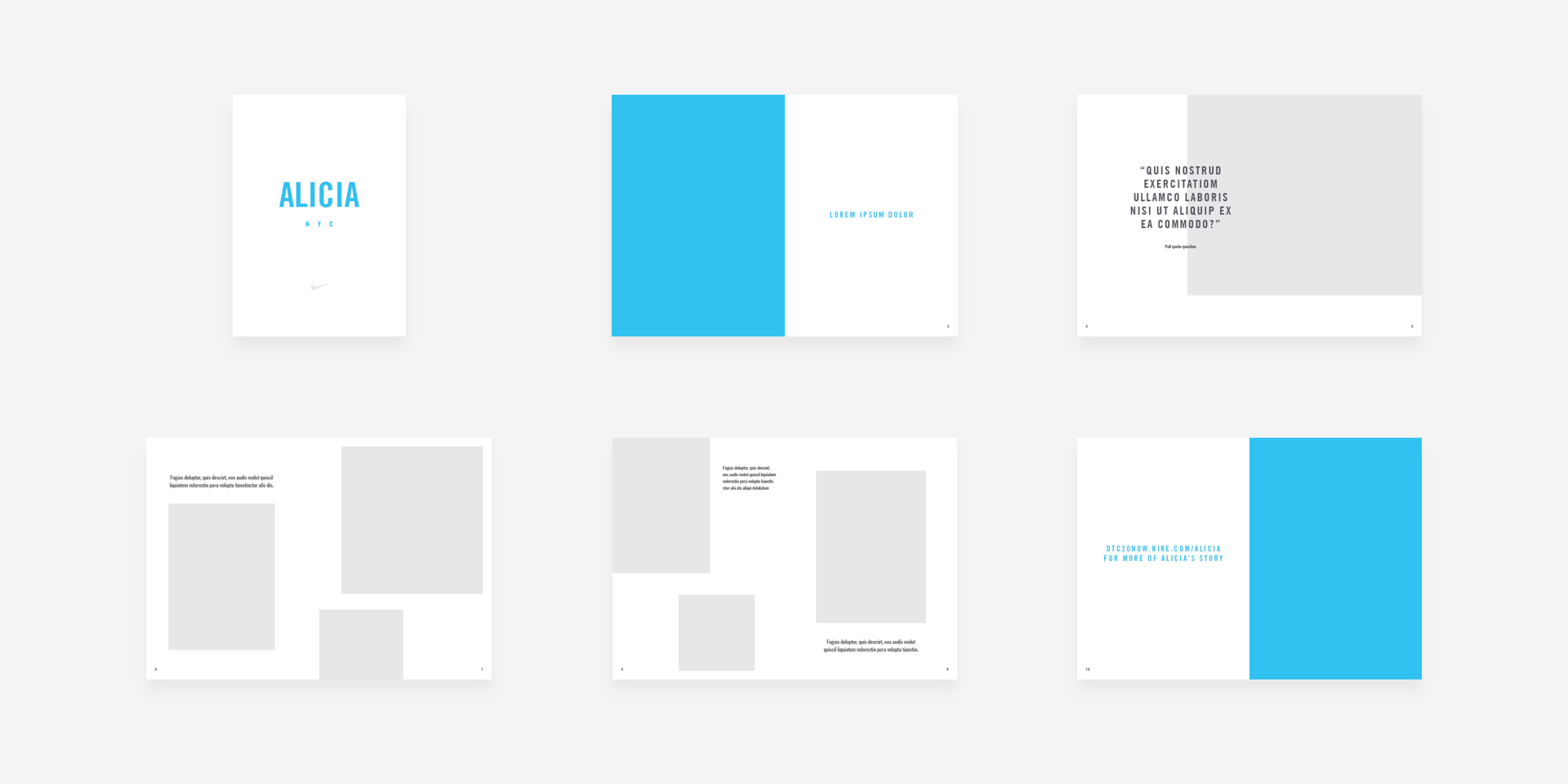 EXECUTIVE LEAVE BEHIND
The Global DTC Brand Plan was translated into a succinct executive leave behind. We shot into imagery of store associates (Nike athletes*) and used their experiences to represent each DTC channel. The main book contained an edited version of the strategy, vision and how "Everyday Victory," comes to life.
The online version of our DTC Global Brand plan allowed us to fully express the richness in content we produced and shot. During our four city asset shoot, we captured imagery, audio and video from representatives at each of the DTC channels. The experience encompassed the full contents from our keynote decks and going much deeper. While the breadth of content was long, we wanted to create an experience that allowed a user to not have to click in order to swipe through each section gracefully.
To create a human connection and compelling narative, we captured a day in the life of four Nike employees. On location in New York City, Mexico City, Amsterdam and Shanghai, we collected their experience to represent each unique DTC touchpoint. Audio, video, and photography from the shoots were incorporated into all our deliverables: executive leave behind, digital experience, keynote presentations, brand videos.
The realization of "EVERYDAY VICTORY," unified our strategy, but the execution of it depended on the leaders of each DTC touchpoint. To set these teams up with success, we provided a number of customer experience frameworks to aid in mapping and strategy leading up to execution.
Creative Director at The Science Project
Customer Experience, Creative & Art Direction, Digital Product Design, Graphic Design
Yan Sze Li, Nicole Davis, Gabe Dorosz, Rick Albert, Jeremy Bergstein, Julie Scherr