Nike DTC 2020 Brand Plan
My Contribution:
Creative Direction
Digital Design
Experience Design
Photo/Video Direction
"EVERYDAY VICTORY," is a new positioning we created to unify Nike DTC and lead a 3 year brand vision for Nike executive leadership.

I supported this by creating multiple ways to epress the strategy and position, including an internal facing responsive web site, leave behind booklets, and various keynote presentations.

My team created original content and shot in Shanghai, Mexico City, New York City, and Amsterdam to capture Nike Athletes in order to support our strategy and creative.

BRIEF
Create a 3 year brand plan to lead Nike's four distinct DTC touchpoints: .com, Factory, Partner and Owned/Operated.

---
SOLUTION
"Everyday Victory"

---
OUTPUT

6 Internal Brand Videos

4 Photo & Video shoots
1 Responsive web site
1 Executive leave behind
6 Keynote presentation decks
---
DTC Brand Plan web site intro above, and screens below
RESPONSIVE SITE

I designed the DTC Brand Plan responsive site using all footage and photography we captured, in order to communicate the strategy I led. Due to the confidential content, the site is accessible to only Nike employees.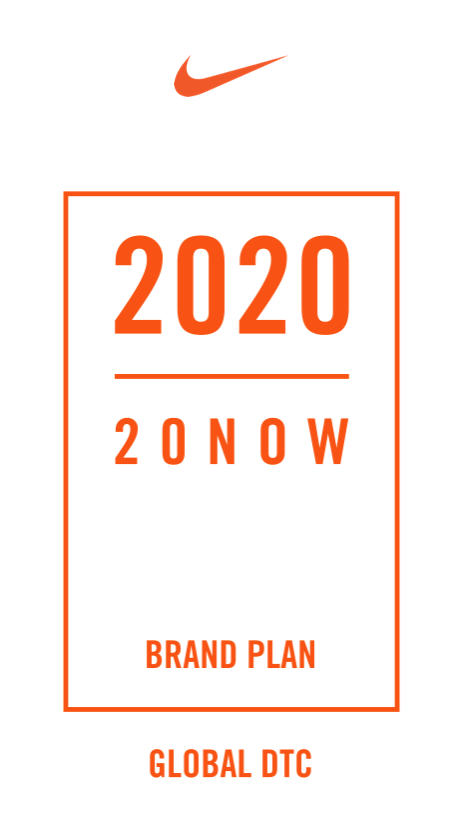 DTC BRAND IDENTITY

I led the art direction for the newly created DTC team within Nike's org. We rolled out this brand identity across, digital and print materials

EXECUTIVE TRAINING

I led the art direction, design and concept for a physical representation of the brand plan for Nike executives. 250 were produced for C and VP level team leaders around the globe to summarize the brand plan and act as a reference guide for teams.


CAPTURED ASSETS

We captured assets from four locations around the world (Mexico City, Shanghai, Amsterdam and New York City), shooting video and photography. Some still samples above from the Nike New York City location.


---

Creative Team: Yan Sze Li, Nicole Davis, Rick Albert, Gabe Dorosz