Nike Pro Bra Launch
My Contribution:
Creative Direction
Digital Design
CX Design
Photo Direction
I designed the end to end customer experience to launch, test and trial the new Nike Rival Pro Bra. Starting with a digital ecosystem to educate, and find the right fit we were able to provide customers confidence in product superiority by also giving her a size up and down if she took our diagnostic. The bras arrived in personalized packaging I designed with my art director. They included the ability easily return product, inspire and validate fit in the comfort of her home.

This launch was successful by the rich online media ads I designed that entered her into the digital fit tool before she was taken to Nike.com where her data from the banners carried over from. I led the concept to capture intimate portraits of Nike's athletes juxtaposed with powerful poses used throughout the experience.


PERSONALIZED EXPERIENCE

The first 1,500 Customer's were surprised and delighted by the customized and premium packaging for ordering their bra through the Nike fit tool.

1-STEP BRA MEASURING TAPE

My art director and I devised a tape unique measurement tool for in-store Nike athletes* to help customers find their bra fit in one measurement. Nike roled this out to their stores.
PHOTO ART DIRECTION

My art direction for the campaign was to capture the athlete in action and also an intimate view of her style
RICH MEDIA

The ad units started her into the diagnostic without taking her to Nike.com. If she went ahead to the site, the results carried over and she bypassed the steps she already answered.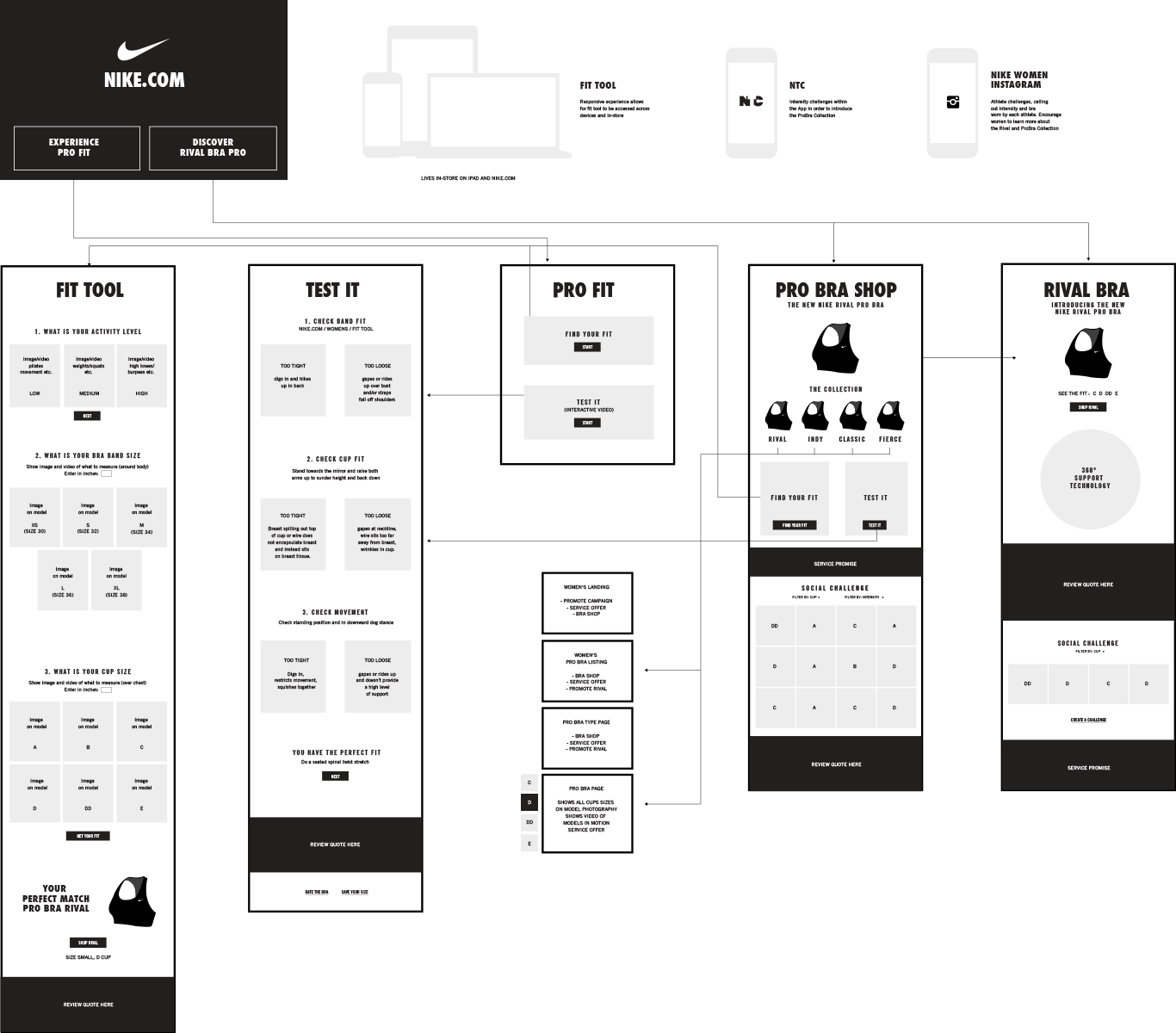 CUSTOMER EXPERIENCE

I designed the ecosystem and customer experience across Nike.com as well as digital marketing and service


---
OUTCOME

2x conversion rate
10% of all purchases are a result from the fit tool
---

Creative Team: Cherlyn Russo, Rekishia Jessup, Natalee Ranii-Dropcho, Yuyu Lai